Without further delay, here is the recap of our exciting roadtrip to the US west coast and all in between! First, I must preface these next several posts with some trip details: approximately 5,000 miles driven, nine states wandered, four time zones crossed, elevations from sea level to at least 9000 feet and temperatures from 37 degrees Fahrenheit to 104 on the same scale. Woah! Yes, it was intense. Yes, us "islanders" were not prepared for the freezing temperatures of upper northern California. So, would you like to hear all about it? Of course you would! :)
Naturally, I'll start from the beginning. Since I kept a travel log the whole trip, I'll be paraphrasing actual accounts with the silly events and what-not. I hope it portrays a more life-like experience for you!
Day 1 & 2: New Mexico + Arizona
We started in Texas and made our way west, spending the majority of our time on Interstate 40. My parents were gracious enough to loan us all our camping equipment (
circa our old family camping trip times
) and a truck to tote it all in. The first stop would be Albuquerque, New Mexico - about an 11 hour drive from my home in Texas. It was a long day of flat plains, train tracks and deserted desert towns.
Our first interesting encounter was at a quiet gas station in New Mexico. We pulled in to fill up at their ancient pumps and Evan noticed two tye-dyed disheveled hitchhikers - a man and woman, about our age, with a dog. His first reaction: "We are not picking up hippie hitchhikers". I, offended at his use of hippie as a derogatory word (
even though I'm not much of one, I still try to be a little haha
), told him it didn't matter anyway because our truck was completely packed in the cab too. So he strolled past the fellows to go pay, only to have the man greet him friendly and ponder at our destination. It was kinda humorous to watch Evan respond.
Both New Mexico and Arizona have very similar climates and landscape (
at least, along I-40
). I was amused by Evan's reaction to the desert - he found it so ponderous that people could live out here, completely cut off from other realities, deserted in their dusty towns. But, they're content. As are we just traveling through.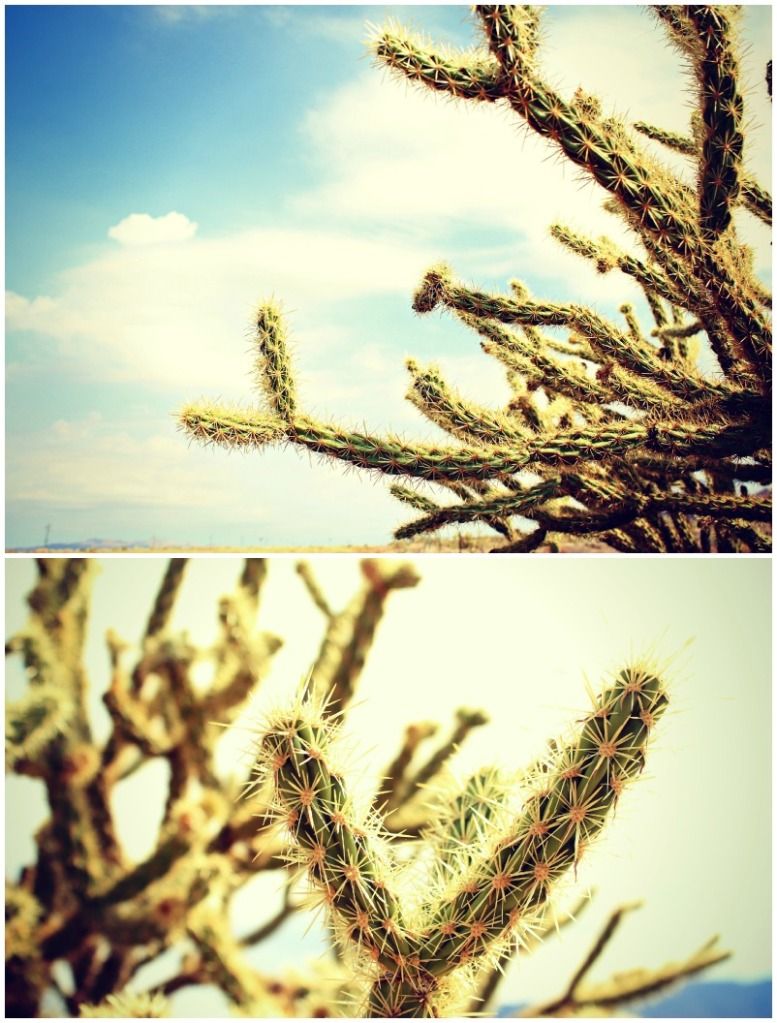 Being the geeky science nerds that we are, we were easily able to describe the desert landscape in terms of its relation to marine flora. For instance, in Arizona (
and Nevada
), we were attracted to these "trees" along the road that resembled staghorn coral (
Acropora cervicornis
). To our bewilderment, they were cacti. Very prickly cacti. In fact, so prickly that they also deemed the hardened ground as suitable habitat to disperse horizontally, surrounding themselves with a protective ground-coating of tiny cacti. All of which we were completely oblivious to as we flitted around taking photos of this silly land coral. That is, until we discovered them all attached to the bottom of our sandals (
silly tourists, everyone knows not to wear sandals in the desert!
). Then they weren't so exciting afterall...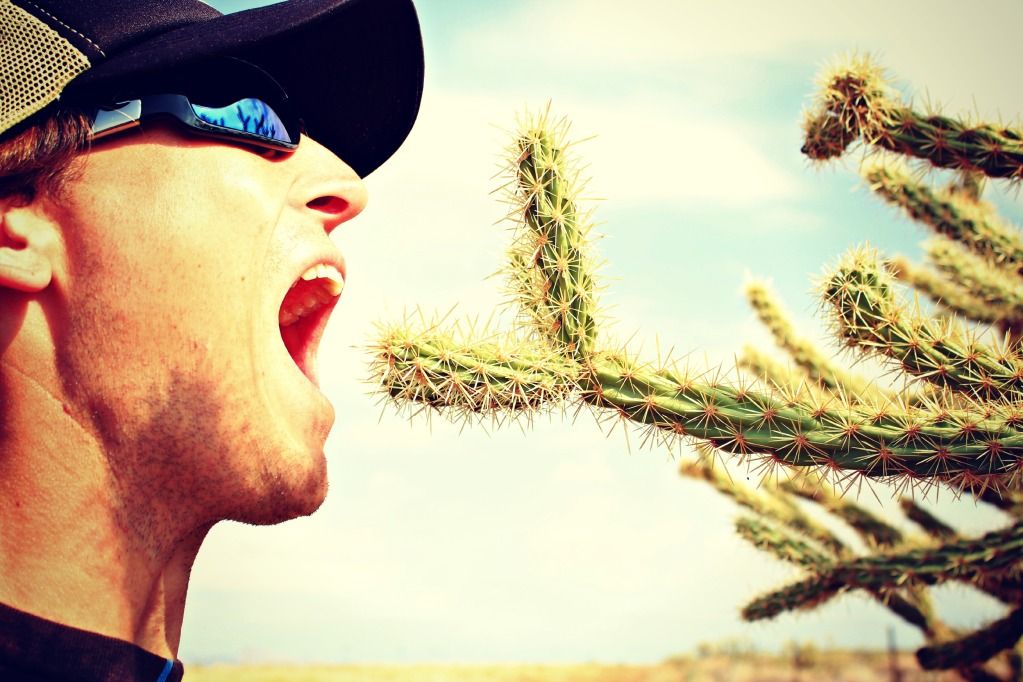 This is essentially how we felt as we carefully but quickly traversed back to the truck, haha.
Another fun stop we made was in Arizona for frybread, Native American goodies and $5 Mexican blankets (
which we needed immensely when we arrived in the cold arctic of Yosemite in the summer
).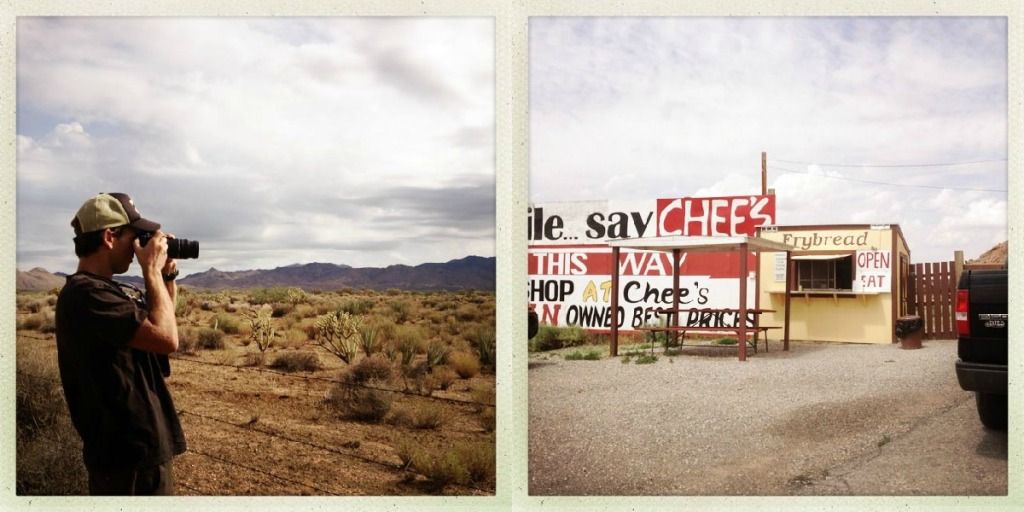 The frybread (
left photo
) was basically a large, thick Mexican
sopapilla
sprinkled with cinnamon-sugar. Delicious fried goodness; perfectly doughy and crisp for a desert delight.
It was in this little arena of Native American souvenirs that Evan also purchased our blankets. I bought an arrowhead. It claimed to be real... but there was a basket of about 100+, so I'm sure it wasn't. Also, it was $1.00
The night we spent in Arizona was oddly the only night that it rained. But it was there we discovered we needed a tarp with no holes and a tent with no holes. Luckily, we were able to at least get one of those things the next day.
The desert is beautiful and has a feeling of solitude about it. I'm not sure I could ever live there, but it's nice to visit. Do you have any favorite places in the southwest US? Perhaps a town that we may have passed on I-40? What do you love most about the desert?
Thanks for reading about the start of the adventure! More to come in the following days as I recap all two weeks of excitement and first-time experiences!